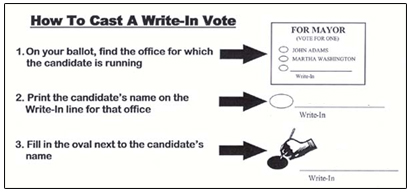 MAKE SURE YOUR VOTE COUNTS!
Kenny Ricker for Mayor - Write-In Candidate.
A write-in candidate is a candidate in an election whose name does not appear on the ballot, but for whom voters may vote nonetheless by writing in the person's name.​
Kenny Ricker is a lifelong Leominster resident, prominent business owner, and devoted family man.

Graduate of Leominster High School (Class of 1988) and Fitchburg State College (Class of 1995).

Kenny was born and raised in Leominster by mother, Katherine (Lolli) Ricker, and dad, Robert "Bucky" Ricker with his siblings, Sherri, Rhonda and Steve. In addition to running his own businesses, Kenny served as Dean at Samoset Middle School.

Please email campaign@kennyrickerformayor.com to support the campaign. We need your help!

Write in Kenny Ricker for Mayor of Leominster on November 7th!​
THE MAYOR'S RECORD ON CAPITAL IMPROVEMENTS, PARTICULARLY LEOMINSTER WATER
MAYOR SAYS on his "Re-Elect" page:
"Accomplishment: Completed well over $100 million worth of capital improvements in the City with cash – no borrowing – saving millions."
KENNY SAYS:
"Accomplishment"? It's called doing your job, BUT hold on. Because he hasn't even done his job in this regard.
So, about this $100 million. The number is meaningless without a context.
It means that Mr. Mazzarella was mayor while the city budgeted 5% (about $100 million of $2 billion adjusted for inflation) for capital expenditures over 23 fiscal years in office. For a city Leominster's size, this is not uncommon and may even be worse than the norm.
Ask the mayor to list these "improvements" and you'll be like, "Of course, you have to fix storm drains, fill potholes, do repairs on city buildings." This is called doing the bare minimum.
The mayor says, "No borrowing - saving millions"? Of course! It was budgeted with our taxes and fees! Find a municipality that busts its budget for such normal expenses.
Why does the mayor brag about paying bills for necessities? Why does he brag about not letting city structures decay or become hazardous?
HERE'S THE PROBLEM. You're not getting the whole truth.
Mayor Mazzarella let our WATER SYSTEM decay to the point where the MassDEP had to issue an Administrative Consent Order in the amount of $19 million to repair the water system because it was not properly maintained or managed. . Remember the content in the quarterly water reports that Leominster was required to send to it's citizens?
"The City is continuing to operate under an Administrative Consent Order (ACO) with MassDEP to correct certain problems and bring the City's water system back into compliance." Leominster's 2011 Drinking Water Quality Report
60% of the residents in Leominster get their drinking water from Notown Reservoir. During Mayor Mazzarella's term water testing results were invalidated for three years because of mismanagement and lack of oversight.
Citizens whose water was supplied by Notown Reservoir were repeatedly and unnecessarily exposed to HAZARDOUS levels of chemicals known as TTHM in their drinking water.
Leominster's water has improved, not because of the mayor, but in spite of him. The result of this lack of oversight and mismanagement has been a dramatic increase in water and sewer fees needed to bring Leominster water and sewer system into compliance.
I PROMISE this communication in half-truths will stop.
I PROMISE not to spin ordinary tasks of government into "major accomplishments."
I PROMISE not to pat myself on the back for doing the bare minimum.
I PROMISE to hold myself to high standard, one that means real, measurable improvement for the quality
of life in our city, for example, taking care of our infrastructure.
Leominster needs a new mayor with new solutions.
Write in Kenny Ricker for Mayor on Nov. 7