VISION, PLANNING, LEADERSHIP!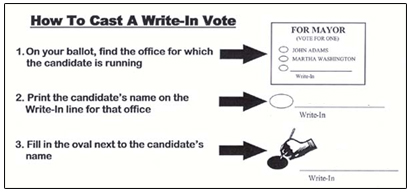 MAKE SURE YOUR VOTE COUNTS!
Kenny Ricker for Mayor - Write-In Candidate.
A write-in candidate is a candidate in an election whose name does not appear on the ballot, but for whom voters may vote nonetheless by writing in the person's name.​
Kenny Ricker is a lifelong Leominster resident, prominent business owner, and devoted family man.

Graduate of Leominster High School (Class of 1988) and Fitchburg State College (Class of 1995).

Kenny was born and raised in Leominster by mother, Katherine (Lolli) Ricker, and dad, Robert "Bucky" Ricker with his siblings, Sherri, Rhonda and Steve. In addition to running his own businesses, Kenny served as Dean at Samoset Middle School.

Please email campaign@kennyrickerformayor.com to support the campaign. We need your help!

Write in Kenny Ricker for Mayor of Leominster on November 7th!​
Kenny J Ricker - Why didn't you pull papers?
Before that deadline and before the BUDGET DISASTER OF 2017, my goal was to continue serving Leominster public schools as a dean at Samoset Middle School. That's my labor of love. I didn't want to leave that job where I dedicate my time to making our schools perform better and to support student learning and success. But the BUDGET DISASTER hit; the city cut my position; I was being denied my chance to serve our schools and the needs of students, teachers and staff.
For a while, I was getting buzz in my ear that I should pull papers to run for mayor but I'm not a professional politician; I never played that insider game of scratching backs at city hall. ALL I DO is focus on being devoted to my family, taking care of them, making sure my children got the best in life. I tirelessly run my business establishments; focus on keeping my customers and employees satisfied; focus on making sure paychecks go out and cash comes in. On top of that, I'm working to provide a safe and sound learning environment for the students. So, it wasn't easy to fit in a campaign for mayor of Leominster.
I've long served this community, just never was as a political office holder. My life's been about doing right by others --- my customers; my employees; the children, teachers and staff in our schools; and, most importantly, my family. But I've done right by them without having to play the power game in city hall. And then I realized IT HAS BECOME TOO MUCH OF A GAME.
It's sort of interesting. I get these messages from the superintendent that he and the mayor SUDDENLY FOUND MONEY to restore a position. That the job was mine so long as I drop any idea of running for mayor. They might tell you that they were making sure I was "committed" to the job. But this was a CLASSIC QUID PRO QUO, where it's "Kenny you play and we'll pay." I couldn't believe it. Using our precious school budget to make under-the-table deals.
No wonder why this CITY IS NO BETTER OFF THAN IT WAS 24 YEARS AGO when our mayor took over city hall AND THE SCHOOL COMMITTEE. So, yes, I made this discovery too late to pull papers. And, so, I chose the write-in route because better late than never. It SUDDENLY hit me that we DESPERATELY NEED CHANGE AT THE TOP.
My goal is to get local government, all of it – the council, the mayor, the school committee serving the people again and doing so by working together, not as rivals. I'm not looking for high fives and pats on the back like our current mayor does. He DOESN'T WANT TO SERVE THE CITY. HE JUST WANTS TO STAY IN OFFICE. And he thinks the two are the same thing. There will be NO PERKS for me when I'm in office. No more of this, "you scratch my back and I'll scratch yours."
THERE WILL BE NO MORE ETHICS VIOLATIONS.
THE CITY OF LEOMINSTER AND ITS SCHOOLS AND ITS INFRASTRUCTURE ARE NOT BETTER OFF THAN IT WAS 24 YEARS AGO. AND THE TAXES . . . Our residents complain they're "renting" their homes. But I'll make sure city hall gets back to its mission of serving the people and giving taxpayers what they're due. THAT'S why I'm running.
​