VISION, PLANNING, LEADERSHIP!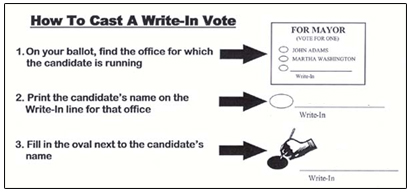 MAKE SURE YOUR VOTE COUNTS!
Kenny Ricker for Mayor - Write-In Candidate.
A write-in candidate is a candidate in an election whose name does not appear on the ballot, but for whom voters may vote nonetheless by writing in the person's name.​
Kenny Ricker is a lifelong Leominster resident, prominent business owner, and devoted family man.

Graduate of Leominster High School (Class of 1988) and Fitchburg State College (Class of 1995).

Kenny was born and raised in Leominster by mother, Katherine (Lolli) Ricker, and dad, Robert "Bucky" Ricker with his siblings, Sherri, Rhonda and Steve. In addition to running his own businesses, Kenny served as Dean at Samoset Middle School.

Please email campaign@kennyrickerformayor.com to support the campaign. We need your help!

Write in Kenny Ricker for Mayor of Leominster on November 7th!​
1. Hello, would you continue Mayor Mazzarella's policy of aggressive grant fund raising? How would you reallocate spending on services and infrastructure maintenance
Absolutely, I would keep the Grant Writing position, but I would make it a position that benefits all the departments in the city. Wendy Wiiks has been extremely successful and I look forward to working with her and would anticipate the same results while I am in office.
Successful, open communication with all Departments will be the key in appropriating the money from the city to all departments equitably.
2. Hi Kenny -- So the biggest question: What is your advantage over Dean Mazzerella, who is a very polarizing mayor but has been in the office for more than 25 years?
I am a family man invested in our community and a dedicated small business owner. I have a passion for helping the city to move forward. There is so much technology that municipalities have available to them to help drive efficiency, effectiveness and communication as well as transparency. I will work to help keep Leominster ahead of the curve in these fast moving times.
3. Will you represent the whole community? I would get out into this diverse city to campaign and share ideas. One thing The current Mayor does is he tries to represent the people of color and lesser economic backgrounds
It is important for anyone that lives in Leominster to feel supported and welcome. Through both my professional and personal life, as well as being a lifelong Leominster resident, I am aware of the beauty and the diversity of Leominster. Taking advantage of the cultural landscape of Leominster I am looking forward to engaging all residents and keeping the lines of communication open.
4. Hi Kenny! Few questions: 1. Are you confident that you will be able to manage your restaurants and the city at the same time? 2. What steps do you see as necessary in searching for a new Superintendent, and what qualifications are most important in that position? 3. Do you plan on continuing the search for a location for a new police station, or do you think you will want to start the search from scratch? 4. What do you think is the most crucial need the schools are facing? 5. What is your opinion of the LCE? 6. Do you think Leominster should continue participating in school choice? Would you be willing to conduct a financial audit to see how much school choice is really costing or earning for our city--taking into consideration the school choice students who are in the special education program? Thanks for your feedback! Good luck on your campaign!
Being a successful business owner is the result of surrounding myself with quality people. Owning a business in the community gives me a wonderful perspective of the challenges of running a small business. Using similar principals in working within the framework of City Government, I have the utmost confidence in my success in leading our city forward.
There is a standard procedure in place for hiring a new Superintendent. I would follow those guidelines. I would like to see someone who has experienced all aspects of the public school system and who has experience in relating to the teachers, principals and administrators. A team player who brings fresh new perspective and ideas in curriculum, technology and financial responsibility are key,
I will work with the City Council as well as the police chief in identifying new options as well as the options that are currently on the table. I feel it will be important to seek out advice from surrounding communities to hear how they have been successful without utilizing the maximum allowed under Prop 2 1/2.
The schools are in need of strong leadership. In looking for a new Superintendent it will be important to find someone who is the voice for all employees of the school district.
I believe the concept of LCE is valid. I think the timing it was implemented, we were not financially ready for the continuous investment. I would work closely with the administration to ensure that the future of the program is beneficial to all involved and that the conversation will continue around any and all options available.
When I am Mayor, I will reach out to the Department of Education and engage in discussions about the benefits of school choice. It would be an ongoing analysis and conversation with the School Committee about the availability of School Choice in our district.
​