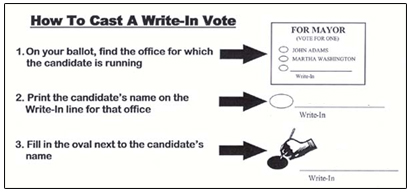 MAKE SURE YOUR VOTE COUNTS!
Kenny Ricker for Mayor - Write-In Candidate.
A write-in candidate is a candidate in an election whose name does not appear on the ballot, but for whom voters may vote nonetheless by writing in the person's name.​
Kenny Ricker is a lifelong Leominster resident, prominent business owner, and devoted family man.

Graduate of Leominster High School (Class of 1988) and Fitchburg State College (Class of 1995).

Kenny was born and raised in Leominster by mother, Katherine (Lolli) Ricker, and dad, Robert "Bucky" Ricker with his siblings, Sherri, Rhonda and Steve. In addition to running his own businesses, Kenny served as Dean at Samoset Middle School.

Please email campaign@kennyrickerformayor.com to support the campaign. We need your help!

Write in Kenny Ricker for Mayor of Leominster on November 7th!​
Kenny Ricker PROMISES greater transparency in government
I promise TRANSPARENCY in government by learning from "best practices" established by other Massachusetts municipalities.
Attleboro, MA provides budget reports that are easily searchable, not just for line items, but for every single expenditure from city coffers.
Our Route 2 neighbors in Gardner created an impressive "Transparency" portal making it effortless for residents to track every penny spent, every tax dollar collected, every bid on every project, every meeting minute jotted, every vote taken:
TRANSPARENCY - GARDNER WEBSITE
This reform was prompted by a free, Department of Revenue review of budgetary practices voluntarily undertaken by the town, a review Mayor Mazzarella consistently refuses for NO reason.
Marlborough, MA underwent a recent, DOR financial review and, based on that review, approved recommended practices in budgetary transparency this year.
I promise such a review. A DOR review can only help our city. Mayor Mazzarella has NOTHING to learn, as he assumes our city is run "perfectly."
As mayor, I already have plans to meet with Gardner officials and learn from other municipalities (e.g., Attleboro, Marlborough, etc.) to adopt best practices in transparency.
Yet, 23 YEARS in office and Mayor "Mazz" remains presenting obstacles to the information that citizens need to hold their government accountable. Sure, it's easy to pay your bills online to city hall, but try tracking how that money is spent.
Whereas the current mayor LOCKS SHUT the door to the business of city hall, I will hold it WIDE OPEN when I'm mayor.
I promise to ACT (Accountability, Collaboration, and Transparency), to eliminate the maze of obstruction to crucial financial and political information that empowers residents and our elected bodies to hold government accountable. Open doors and open books are the hallmarks of good government.
Leominster needs a new mayor with new solutions.
Write in Kenny Ricker for Mayor on Nov. 7